BAFCO International Shipping and Logistics Co. Ltd
Since the start and now over a few decades BAFCO has established itself as the leading company for all transport and logistics solutions. With a strong alliance with partners and an international network of partners and agents, we are present in more than 20 locations spread across 5 countries. Connecting the dots of our presence we are all over the globe to move consignment of any size from anywhere to anywhere, only to achieve customer delight which is the objective and motto of our company.
All teams, from planning team who plan the best route for your consignment to the delivery team comprises of specialists who are the masters of their trade in their own right work coherently to ensure the delivery of your consignment reaches its destination on time and in its pristine condition as it was at source. These teams have over more than a few decades have repeatedly delivered the ABF promise superseding the expectations. This is possible because all teams take ownership of their assigned task and are very responsive at all times.
We also believe in providing the best cost effective, competitive remuneration for our services. It is our principle to ensure we deliver to achieve customer delight and converting that customer into a partner for all logistics solutions for now and for ever.
Services offered at BAFCO
With the unbeatable network of specialists' agents, we have the experience and the expertise to move any consignment of any complexity. We offer a centralised co-ordination point for all customers. To make it convenient to all customers needing special customised service for their consignment. This includes multi-modal co-ordination of freight movement to single or multisite destination(s), which also encompasses expending loading supervision, customs clearance and delivery to single or multisite destinations.
Sea Freight
BAFCO has developed its own signature methodology for sea freight service to meet any specific requirements of customers. The process streamlined that not only keeps track of the consignment but also ensures that it remains in its pristine condition as it was at source.
The prominent features include
Worldwide FCL, LCL, Conventional, RoRo and Project Cargo movements
Reliable Sailings to meet the requirements of customers
Best Transit Times
Door to Door Deliveries
Competitive Rates
Monitor the shipment from origin to the final destination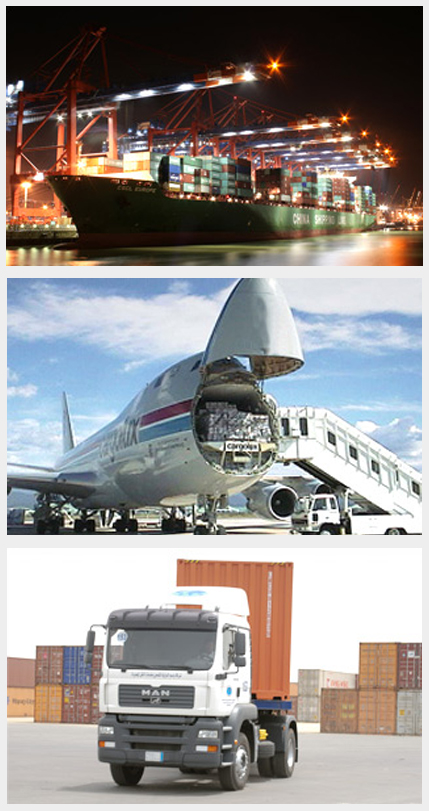 The entire process is designed to ensure customer delight, so as to convert the customer to be a partner for all logistics solutions no and for ever.
Overland Network
IT has been BAFCOs' founder principle to ensure all consignments from any customer reaches its destination. To ensure this apart from the freight services we also have a strong network of in-land logistics operations.
We have over 105 trailer trucks at disposal to move any consignment anywhere. We are also offering specialized services in the movement of Project Cargo; GCC based inland transport, customs clearance, exhibition logistics, repair & return shipments etc. We also have terminal facilities available at Jeddah, Riyadh, Dammam and Dubai where goods are consolidated for onward distribution through the Kingdom of Saudi Arabia, GCC countries and worldwide.
To ensure we deliver the ABF promise to every customer, we have developed a network of all modes of transport which includes sea, water, roads and railways to move any consignment, only to achieve customer delight which is the ABF promise.
Warehousing
The on time delivery of any consignment demands efficient plan of movement encompassing all details of the route. To achieve this it is mission critical to have a decent warehouse. It further humbles us to say that BAFCO has a total of state of art warehouse facilities that sums up to over 200,000 sq.ft, this means, we are more than equipped and backed with a few decades of experience to move any consignment anywhere and on time.
For any specific need to move your consignments form anywhere to anywhere, contact us at your convenient location.
BAFCO International Shipping & Logistics Co. Ltd.
Al Baghdadia Al Garbia,
Hamza Shata Street,
P.O. Box 16272, Jeddah 21464
website : www.bafcointl.com
Working hours
Saturday to Wednesday: 8.30 AM to 5.30 PM
Thursday: 8.30 AM to 2.30 PM
Office Tel no.: +966 2 6420 333 (10 Lines)
Office Fax no.: +966 2 6441 558
Head Office Email:
jedho@bafcointl.com
management@bafcointl.com
Riyadh
P.O. Box 23330,
Riyadh 11426,
Saudi Arabia
Tel. +966 464 6918 (5 Lines)
Fax. +966 466 0723
E-mail: rydsales@bafcointl.com
Dammam
P.O. Box 13203,
Dammam 31493,
Saudi Arabia
Tel. +966 3 835 0333 (5 Lines)
Fax. +966 3 833 5617
E-mail: dambr@bafcointl.com
Jubail
P.O.Box 1291
Jubail 31951
Saudi Arabia
Phone: +966 3 362 6659
Fax: +966 3 362 6716
Email: jubailbr@bafcointl.com