BASEM International Middle East LLC
BASEM International Middle East is one of the many companies operating under the banner of ABF group of Industries. ABF group has also has shipping and freight forwarding companies operating under its banner. BASEM International is dedicated to all the logistics requirement of our clients in the entire region covering all the emirates of nation UAE.
The Middle East region is a place where people strife for, or demand for quality goods and services. To maintain the continuous supply of such goods and services require a strong network of supply chain operations. These operations will definitely include import and export of goods from all and to all over the world. For this, it requires a strong fleet for Air freight, Sea freight and In-land logistics operations.
We also believe in providing the best cost effective, competitive remuneration for our services. It is our principle to ensure we deliver to achieve customer delight and converting that customer into a partner for all logistics solutions for now and for ever.
Services offered
BASEM International Middle East LLC has been serving this sector for more than over two decades and is the leader in the field of freight forwarding and logistics operations. With its focused principle to achieve customer delight, the company is catering to all the logistics demands of all industries across all sectors which include food and beverages, electronics, all goods encompassing retail groups, super market and merchandising chains, textile, perfumes, steel and associated industries, automobile, packaging to name a few.
With a strong network of alliances with partners and associates, and teams of professionals from planning team who plan the best route for your consignment to the delivery team who deliver the consignment to its intended destination, are all well qualified and trained with over two decades of experience for all project handling, supply chain management and project logistics to handling any consignment of any size and type.
Ocean Freight and Air Freights
To maintain a continuous supply of all services and goods in the Middle East, we have a dedicated staff that handle the requirements of freight forwarding or receiving consignments of import and forward them to its destination. We have operations in all major air ports and sea ports to serve our clients with an end-to-end logistics solution.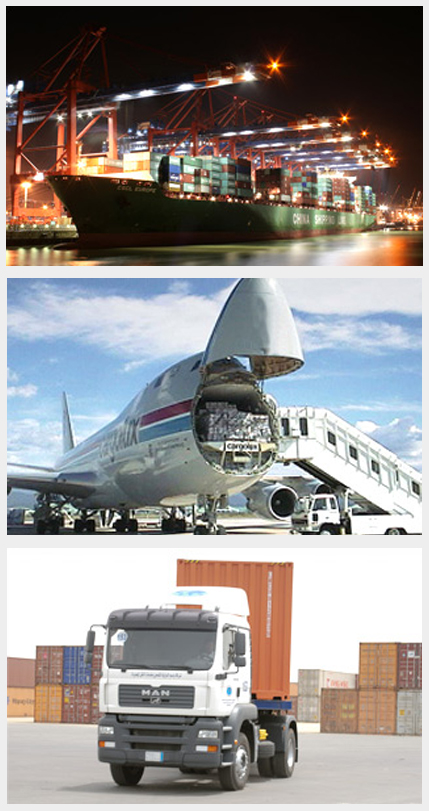 Overland Network
As a principle to ensure end-to-end logistics solution, after receiving consignment form sea or air freights we deploy our strong fleet of trucks for further in-land logistics operation be it local or international destinations. As part of the end-to-end logistics solution we are specialised in meeting the demands of specified requirements any consignment may demand for its transit.
The well qualified trained and experienced staff backed with stat of art equipment, we are capable of handling any consignment of any size or type for an end-to-end logistics operation from any place to any destination.
For more details of the logistics requirement for your consignments Contact Us at